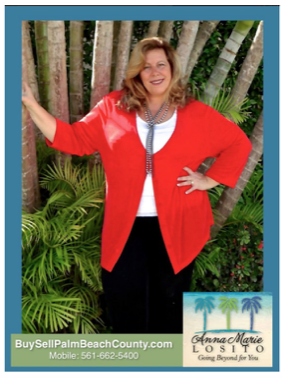 If you want to know more about Anna Marie in general and special memberships, then scroll to the end of this page. However…If you want to know specifically what's in it for you when you work together with Anna Marie, then you're right where you should be.
In short, I HELP SOLVE PROBLEMS, MAKE DIFFICULT SITUATIONS MUCH MORE MANAGEABLE, AND MOST IMPORTANTLY, I HELP PEOPLE SAVE MONEY, TIME AND STRESS WHEN:
BUYING
OR
SELLING
PROPERTY IN SOUTHEAST FLORIDA
Certainly not your average agent… I CAN HELP YOU move forward as it relates to real estate, especially if you have special circumstances blocking you…
Sooo, You have come to the right place for help, especially if you are:
The homeowner of a previously listed home that didn't sell…
Trying to buy or sell a home in Palm Beach County and have special challenges and need a little more hands-on help…
You inherited a home in So Florida that you need to sell…

Going through a life transition…Job Change…Relocation…Growing Family…Downsizing?

You are a Personal Representative for an Estate Sale in So Florida…



Wouldn't you like to find a real estate professional that understands your special situation and GOES BEYOND the average agent and can help you with ANY real estate transaction?
I'm dually licensed in Florida as a Professional Real Estate Consultant & Realtor AND I'm a licensed Psychotherapist, in addition to an Author. I help people buy, sell and invest Florida Real Estate, especially those that have special and complex situations affecting their real estate transactions such as with life transitions, probate & estate sales, deaths, divorces, marriages, job changes, family additions, etc.
I put my money where my mouth is – just ask my clients…To see what others are saying about me, register for a free account at www.BuySellPalmBeachCounty.com, or email me (Realtorannamarie@gmail.com) for a list of recommendations with phone numbers for my past clients with no fluff!
Now, tell me how many Realtors will let you talk to their past clients?
A Little More about Anna Marie Losito:

Education continues to play an important part in Anna Marie's life and real estate career. She is continually taking courses to advance her human resources, technical and business skills. For her, business and real estate is an educational process. (See below for complete list of education)
"Whether you're buying, selling or investing, I see my job as helping you look at all the possible options available so you can make educated decisions….Then we work together as a team to help you and your family achieve them."
Anna Marie's motto and value proposition is to offer above average service, always going beyond the ordinary…REAL Estate Professionalism with REAL Results: A smooth transaction in the shortest period of time at the best possible price for all customers and clients!
Anna Marie's Special Memberships:
Keller Williams "Capper" – Top Producer
KW BOLD Graduate
Member of KW's ALC – Agent Leadership Council
Published Author, Instructor, Trainer
Dale Carnegie Mastery
Anthony Robbins Mastery
Landmark Education Graduate – The Forum
Member:
Realtor Association Of The Palm Beaches
Florida Association Of Realtors
National Association Of Realtors
Other Education:
Bachelor of Arts: Rutgers University (Business & Psychology)
Master of Science: Nova South Eastern University (Licensed Psychotherapist)
In her own words, to summarize:
I have a little bit on a "North-East" attitude when it comes to people and relationships. Meaning, I'm very often an open book – What you see, is what you get. I don't put on any airs, I pride myself on being straightforward, but tactful; Understanding in a gentle, but firm way. I have high expectations of others around me and get disappointed fast when others don't share my passion or appreciate my direct manner.
I've worked for many different companies in different fields and capacities, so I consider myself to be a "chameleon" of sorts – since I can adapt to almost any environment and can deal with almost every personality type. I really love changeand learning something new every day. My life experiences have taught me to be very persistent, drown out other people's negativity, put my nose to the grindstone and forge ahead diligently with my goals. Up to now, and especially with switching careers in my 30's, 40's, and now in my 50's, especially with regards to Real Estate – I've maintained the belief that we can do anything, at any time, solve any challenge, as long as we put our mind to it, and be passionately committed to what we want to accomplish.